Your
bridal bouquet
is the ultimate statement piece to your
dre
am dress
, perfect accessories, and stunning venue. Your walk down the aisle wouldn't be complete without it! When it comes finding your perfect bouquet, there are several things to consider. Not only must you choose which flowers you want, you also have to decide on a style.
With these 8 bouquet designs, you no longer have to fret over florals!
1. Round
A timeless and popular bouquet style among brides is the round bouquet. This is a compact cluster of flowers typically held together by ribbon. If preferred, the stems may show beneath the ribbon.

Lynn Doyle
by Kelly Ginn Photography
2. Hand-Tied
The hand-tied bouquet is similar to the round. However, instead of being compact, the flowers are loosely tied together by a single ribbon, which allows the stems to show completely.

Southern Knot Weddings & Floral Design
by Donovan Gray Photography
3. Posy
A mix between the round and hand-tied, this bouquet is a perfect choice for bridesmaids. The posy works well with all varieties of flowers and can easily be held with one hand.

Enchanted Florist
by Matt Andrews Photography
4. Cascade
Sometimes called a "waterfall" style, this arrangement is a cluster of flowers that narrows from top to bottom. Though traditionally a glamorous and extravagant choice, recent cascade trends have adopted a rustic feel with the addition of vines and wildflowers.

Melissa Timm Designs
by
Brittany Conner Photography
5. Pageant
Better known as an "arm sheath" bouquet, this stunning style is most recognized as the bouquet of beauty pageants. The long stems typically show and are held by cradling the bouquet in one's arm.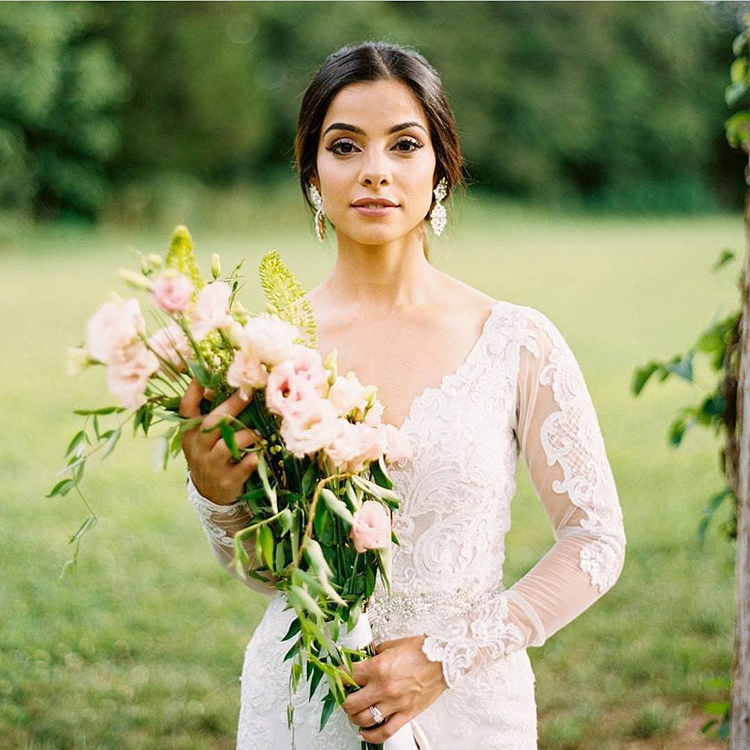 Melissa Timm Designs by Ben Finch Photography
6. Nosegay
Unique in its name, the nosegay bouquet is a compact bouquet that often includes more greenery than flowers. Brides who opt for this style may have their bridesmaids carry a smaller version. This is an excellent choice for the "throw bouquet."

Enchanted Florist
7. Pomander
When visualizing this bouquet style, think mistletoe. There is a reason this bouquet is known as the "kissing ball." A perfect accessory for a flower girl, this arrangement is an assortment of flowers held by a single ribbon.
Melissa Schollaert Photography
8. Ballerina
The ballerina bouquet style adds a "tutu" twist to the round bouquet by adding tulle under the flowers. This feminine style became popular during WWII due to the scarcity of fresh florals.
Pam Scott
Which bouquet style do you prefer? Let us know in the comments below!