While I'm a native Michigander that's used to snow, I've definitely become spoiled by the warmer weather down here in the South. So, maybe due to the little bit of snow we've seen lately, (in March for goodness' sake), I'm thinking even more about the beach than usual. I may be slipping on my boots and digging in the closet for my warm gloves, but in my mind, I'm sitting on a sunny beach – feet in the sand and reading a fantastic book.
If you and your groom are planning on a exciting, romantic beach wedding, this colder weather probably has you looking forward to the day even more. While beach weddings can come in all different styles and forms, most bring with them a more relaxed, care-free atmosphere that some of the more formal weddings sometimes lack. The sixth installment of our First Dance Songs series talks about five tunes that would be a perfect fit for a beach wedding!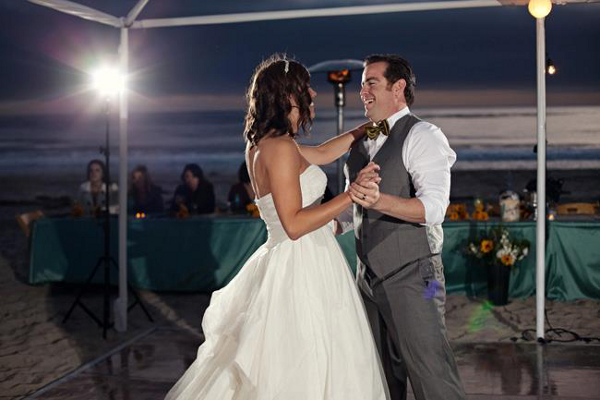 1. "Somewhere Over the Rainbow/What a Wonderful World"
This beautiful combination of two classic tunes played with a tropical twist is perfect for a first dance at a beach wedding. Sung by Hawaiian Israel Kamakawiwo'ole, this song has been featured in quite a few movies, television programs, and commercials. The song gained even more popularity after Kamakawiwo'ole's early passing at the age of 38 in 1997.
Kamakawiwo'ole's skillful ukelele playing and beautiful voice add an amazing island influence to this medley. The tunes in this combo talk about the beauty of this world and encourage dreaming big. These are perfect themes to add to the simplicity of a beach wedding!
2. "Kokomo"
It's difficult to create a song list for beach weddings without including The Beach Boys. Many tunes from this band would work as a first dance song, but this one is especially nice because of its tropical feel. The band originally formed in the early 1960s, but "Kokomo" was not written and recorded until the spring of 1988.
Although The Beach Boys mention quite a few tropical places of interest throughout the song, the island of Kokomo located "off the Florida Keys" does not actually exist. It's more about just describing the perfect island getaway – where you and your love can be far from the stresses and just enjoy each other's company. With The Beach Boys' fun harmonies and the lovely addition of the steel drums, this tune will have you and groom dreaming of a beach honeymoon if you don't already have one planned!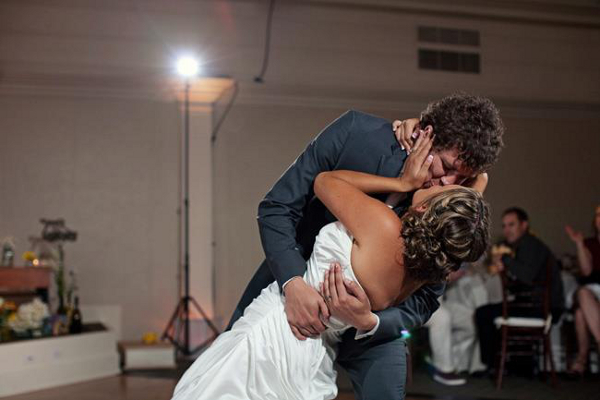 If you and your groom are in the mood to add some reggae style to your big day, you'll definitely want to consider a first dance song by Bob Marley. Although many of this Jamaican artist's tunes were influenced by the social issues going on around him at the time, this one is all about the love. After becoming one of Marley's best known songs, it's been played in various movies and has been covered by many other artists.
The simple yet honest lyrics in this song discuss the singer's powerful love for somebody with whom he wants to share a life. The slow island-influenced beat will have you, your groom, and quite possibly all your guests, jammin' on the dance floor for the first dance as a married couple for your beach wedding.
Born and raised in Hawaii, Jack Johnson is a folk rock singer-songwriter, surfer, filmmaker and musician. Due to growing up with the laid-back lifestyle of the Hawaiian islands, many of Johnson's songs have a very "beachy" feel to them, and this particular tune of his is no exception.
For the easy-going couple that doesn't want a lot of flash and glitz for the first dance of their married life, this song is perfect. Johnson's island-vibe, soothing voice, and heartfelt lyrics make this a fabulous choice for swaying at a beach wedding.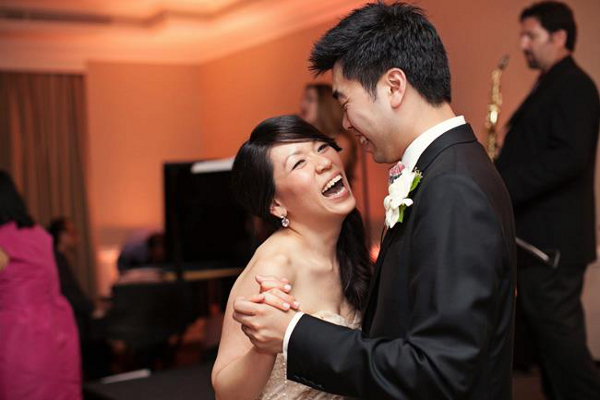 As a Disney movie fan, I definitely couldn't leave this one off the list. Written for Disney's The Little Mermaid, the song's calypso style and charming lyrics make it one of my favorite parts of the movie. If you and your groom are Disney lovers also, any tune from this film would be perfect for a beach wedding!
The original version from the movie would certainly make for a fun first dance experience, but if you don't want your guests picturing a singing crab at your reception, consider using this lovely version by pop singer-songwriter Colbie Caillat instead. Caillat keeps the magic of the original version intact, but adds her own sweet style to the tune.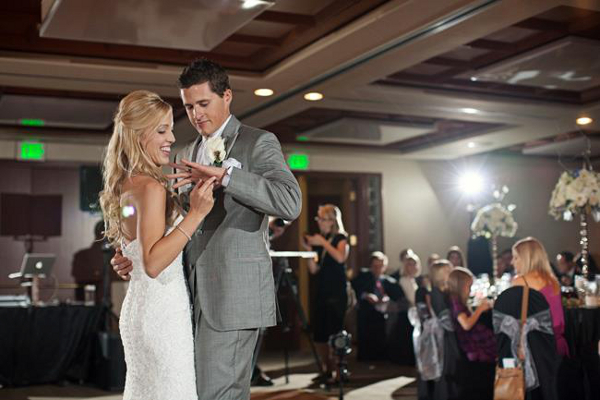 Whether you're actually getting married right on the beach or just have a surf and sand themed event planned, beach weddings are a wonderful way to say "I do" in a laid-back style without compromising on the fun and romance. Hopefully these beach wedding first dance song suggestions have inspired you and your groom for your first dance as a married pair, and if you missed our earlier installments of the First Dance Songs series, be sure to check them out here!