We know that choosing your right-hand girls for your big day isn't always a piece of cake. There are things to consider before it's your turn to POP the question.
We've taken the time to tackle the most popular questions for choosing your wedding party. Plus, we've added some tips to consider that you would never think of!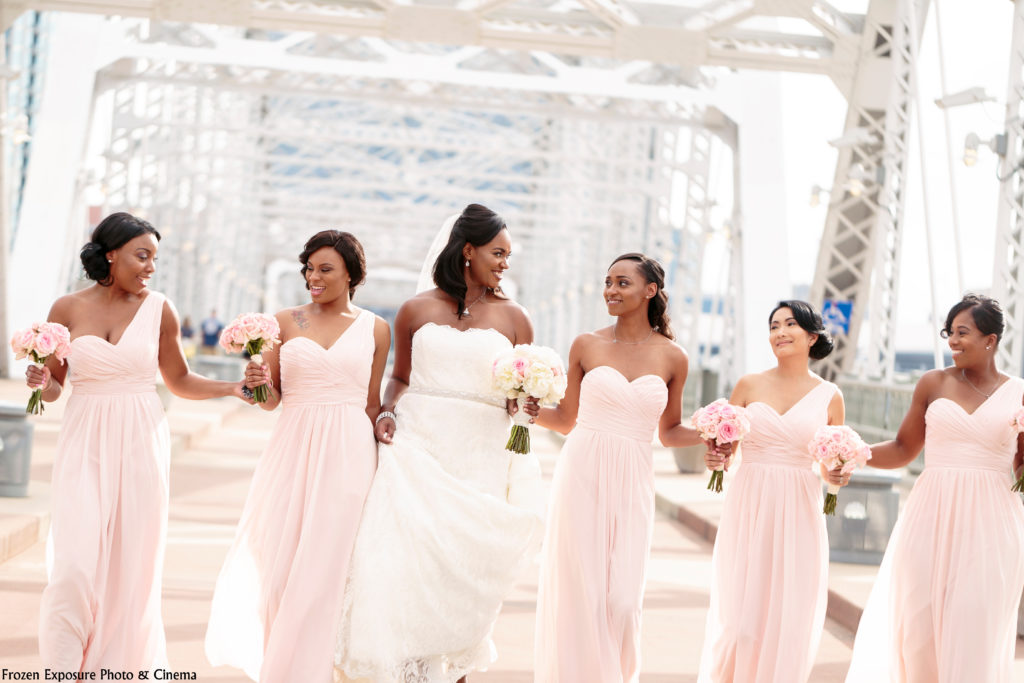 Do the groomsmen and bridesmaids have to be an equal number?
Absolutely not! I personally love seeing an uneven number in the wedding party. You can always have a groomsmen walk two bridesmaids or vice versa. The guys don't have to necessarily walk the ladies down the aisle either. They can walk out in a line from the side, leaving the girls to strut their stuff solo! Learn more here.
Should I include my future sister-in-law in the wedding party?
This can be a tricky question depending on the logistics of the family. However, a good rule of thumb is if your groom has a good relationship with his sister, then yes, you should include her in the wedding party and festivities.
She asked me, do I have to ask her?
Just because someone asked you to be their bridesmaid does not mean you are obligated to return the favor. Do not feel pressured or feel guilty when not including this particular friend in your wedding party. If you ask someone out of pure obligation you could be setting yourself up for wedding day regrets. You can always include her in the bachelorette festivities or have her give a reading during the ceremony if you feel she needs to be included in some way.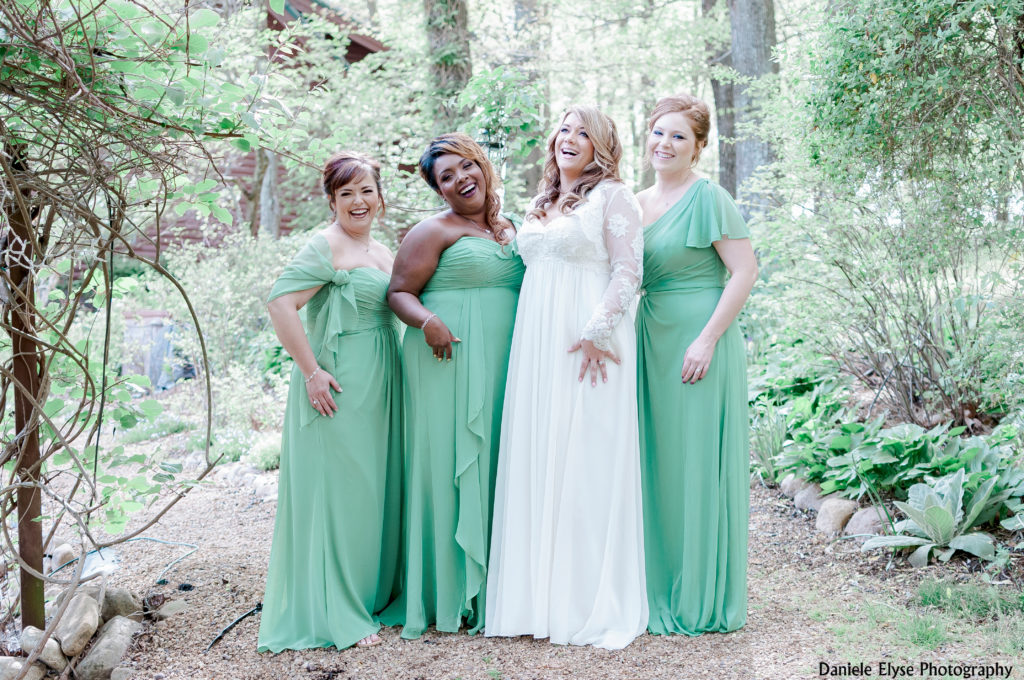 How do I choose my Maid of Honor?
Who did you immediately think of when you read the words maid of honor? The person you just thought of should more than likely be the person you ask to be your MOH. There are qualifications a MOH should be able to meet.
Is she organized?

Will she be able to plan a bachelorette party?

Is she supportive of your relationship?

Does she understand your wedding vision and wishes?
Read this article for even more advice!
Can I have more than one Maid of Honor?
Absolutely! There are many brides who have a Matron of Honor and a Maid of Honor. It is very important that if you decide to have two Maid of Honors that you help outline who is responsible for which wedding tasks. It is also important that both personalities mesh and collaborate well together. You do not want to be dealing with drama during your planning endeavors.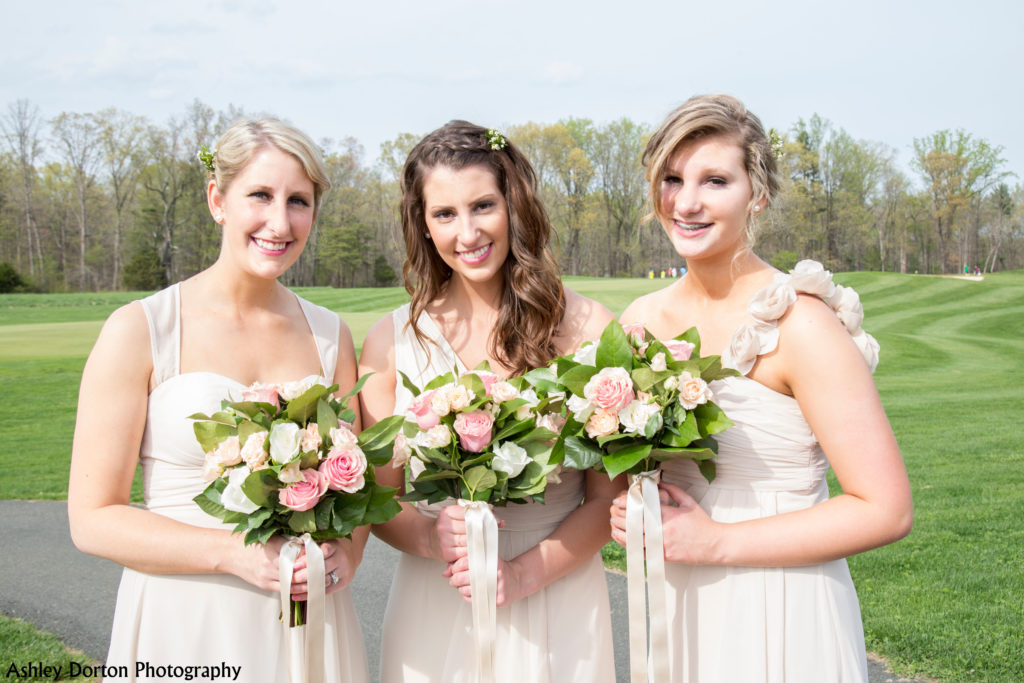 How do I choose my bridesmaids?
Do you see yourself being friends with her 10 years from now?

If you cannot see yourself being longtime friends it's okay to not to ask her to be a bridesmaid.

Is she supportive of your relationship?

It is key that your friend standing beside you is supportive of your relationship. The whole reason of having a wedding party is to have those closest to you who love you and are supportive of your new adventure together.

Will she be a Debbie Downer when participating in wedding festivities? 

Debbie Downers will only cause you unnecessary stress.

Are you asking her because you don't want to hurt feelings? 

Asking a friend so you don't hurt her feelings is almost just as bad as asking her out of obligation. This is YOUR day. It's okay to be picky.

Will she get along with your must-have bridesmaids? It is important that all your maids will get along with one another during wedding festivities. You do not want to be dealing with drama during events that should be a drama-free zone.
Are they going to be able to afford being a bridesmaid? 

This is a loaded question. I've addressed this situation further in the next question.
Here are some other questions to ask yourself when choosing your wedding party.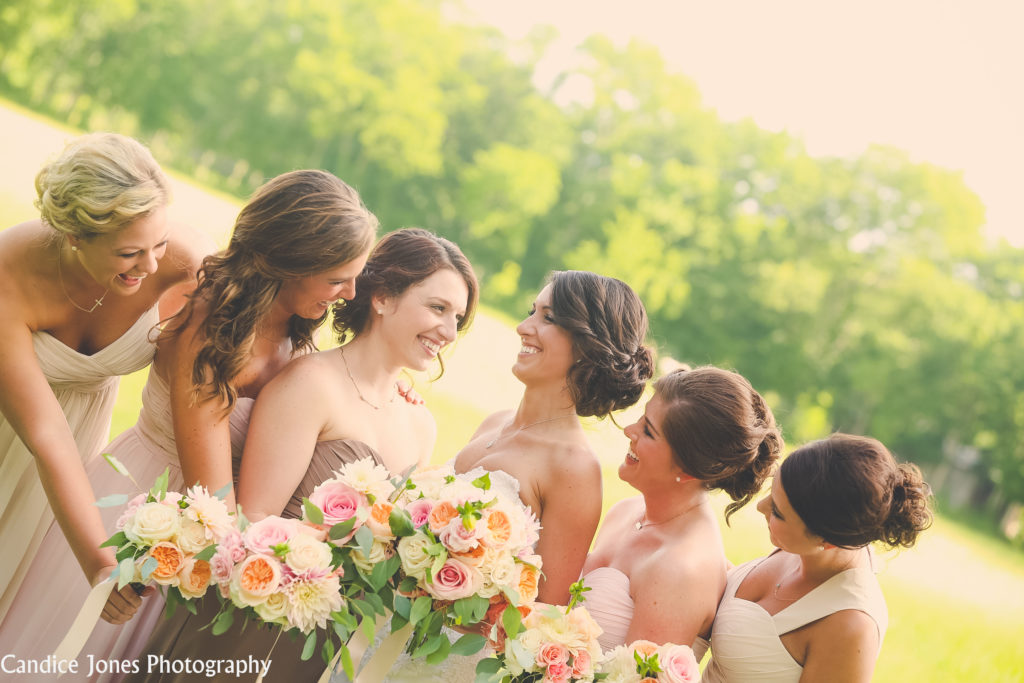 What if I know my bridesmaid cannot afford to be in my wedding party?
Weddings are expensive! You may want to prepare for the possibility that one of your chosen few will have to opt out for financial reasons. Try to be understanding; it truly hurts her more than it hurts you!  
If you insist on a friend being in the wedding party, consider paying for her bridesmaid dress as her bridesmaid gift. Let her know that attending the bachelorette party is not mandatory. Believe it or not but the bachelorette party can be one of the most expensive wedding events.
If you cannot afford to pay for the dress or other bridesmaid obligations, consider having your financially stuck friend apart of your House Party. A House Party is a group of your close friends who are assigned to help manning wedding day tasks like handling the guestbook, passing out programs, serving cake, etc.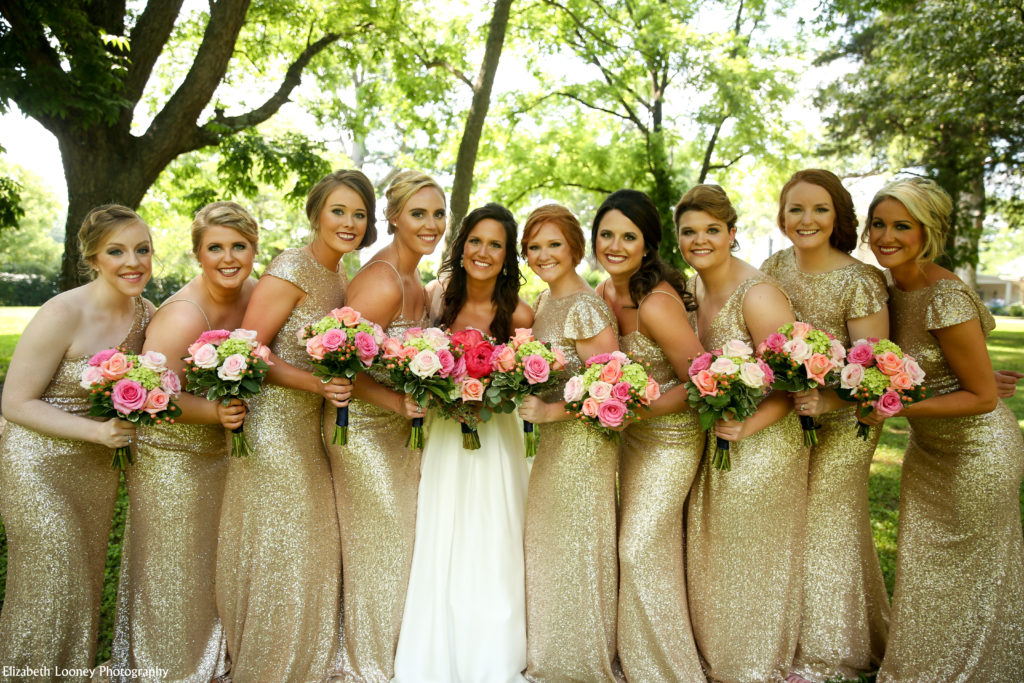 Be Mindful of Your Bridesmaids
Three of the six of my bridesmaids actually travelled to be in my wedding. I had two bridesmaids who had to drive in and one who actually had to purchase a plane ticket! If you have bridesmaids who have graciously said 'yes' and are willing to travel to stand next to you, be considerate of where they are going to stay the night of your wedding. Pay for their hotel rooms, or if you think best, let them stay with you for one last slumber party before becoming a Mrs.!
Who Pays?
Bridesmaid Dress

The bridesmaid is generally responsible for paying for her dress and alterations. I recommend having an approximate cost for the dress when you ask her to be your bridesmaid so she can have an idea of what things will financially cost. 

Check out our

article

that further details bridesmaid dresses.

Hair & Makeup

If you're requiring your bridesmaids to have their hair and makeup professionally done, consider springing for their trip to the salon. Everyone loves to be pampered!

If you do not have the budget to pay for everyone's hair and makeup provide, let them know the cost. If they choose to opt out, no worries! They can always do their own hair and makeup.

Side Note:

If you have a friend who is excellent at hair and makeup, consider having them present when you and your bridesmaids are getting ready. I did this and, let me say, this saved those who aren't so talented with a curling iron!

Bridal Accessories

Again, bridal accessories make for a great bridesmaid gift. However, if you have a different gift in mind, consider letting your bridesmaids choose their own jewelry and shoes. Give them an idea of what you would like them to wear.

Mani/Pedis

This isn't a required part of the wedding events. However, if you require your bridesmaids to have mani/pedis before the wedding, you should foot the bill. 
How do I decide on bridesmaids gifts?
First, know that bridesmaids gifts and wedding party gifts in general can add up quickly! This is a hidden wedding cost that most brides overlook. Second, your bridesmaids gifts can be a vast selection of things. As mentioned earlier, you can pay for their hair and makeup, bridal accessories or a luxurious spa day.
Your bridesmaids gifts do not all have to be the same! Set a budget of what you would like to spend for each gift and then create a gift unique to each one of your closest friends.
If you are purchasing gifts through an Etsy seller, reach out to them and ask if they offer a discount on bulk orders. You will be surprised that many of them do.
Should I let my bridesmaids choose their own dress?
You do not have to let your bridesmaids choose their own dress. This depends on your wedding vision. If you decide to let them choose their own dress, here are some of my personal recommendations.
Provide them with color swatches

Provide them with guidelines for length and fabric

If wanting each maid to wear a different dress, let your MOH have first choice

Ask to approve their dresses before they purchase
Pros to letting your bridesmaids choose their own dress:
Bridesmaids choose their budget.
Bridesmaids can purchase a dress that flatters their figure
Read this article to avoid help avoid bridesmaid dress disasters!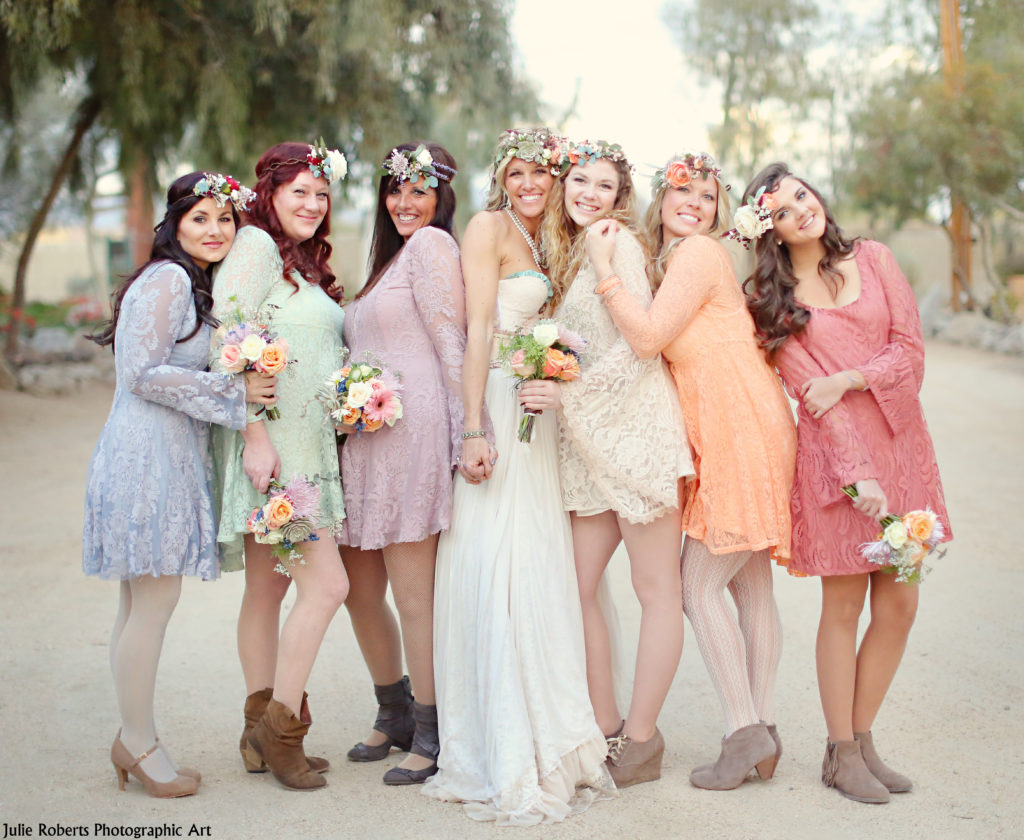 Still have unanswered questions or other advice?
Post your question/advice in the comments below. I look forward to hearing from you!