There is often some uncertainty from grooms on their wedding attire. Should you wear a suit or a tuxedo? And what is the difference between them anyway??
Don't fret, we are here to save the day and help you decide which is better for your wedding! Whether you decide on a casual and cool suit or a classy and sexy tux, we can promise one thing: your S.O. won't be able to take their eyes off of you! We have the answers you're looking for to three of the most common menswear questions!
What is the difference between a tuxedo and a suit?
Before making a final decision, you need to really understand the differences between the two!
The biggest difference is that a tuxedo has the presence of satin on it, while a suit does not. You will see satin on the lapels, buttons, and pocket lining of the tuxedo jacket, as well as a strip of satin down each pant leg. In contrast, suits have plastic or cloth-covered buttons and no satin parts. Tuxedos may also have additional components like a cummerbund or vest, while a suit may or may not be accompanied by a vest or suspenders.
In addition, a bow tie is traditionally worn with a tux and a tie is worn with a suit, although this line has been blurred in modern times!
Another difference between a suit and a tux are the color options. Generally, a tuxedo will only come in black or navy and possibly have pinstripes. A suit, however, comes in various shades, styles, and fabrics (you can even find denim suits, but we don't exactly recommend that!). For some weddings, think an outdoor beach wedding, the groom will be more comfortable in a light colored suit made of a thinner fabric, and this can't exactly be achieved in a tuxedo.
Is it inappropriate for the groom to wear a suit to the wedding?
Definitely not! It is very common to see a groom and his groomsmen in suits for weddings. It does, however, depend on the wedding. For more casual weddings, a suit is perfect. If it is a very elegant affair, a tuxedo might be more fitting.
A good way to help make your decision is to look at your S.O.'s outfit. If she is wearing an extravagant wedding gown, you would look a little underwhelming in a suit. On the other hand, if this is a casual rustic wedding and she is wearing a sweet lace dress with cowgirl boots, an elegant tuxedo might be silly. The entire theme of the wedding should give you a pretty good idea of which would work best.
However, if your wedding is kind of on the line and you still aren't sure, the best option is to just discuss with your S.O. Do they want the wedding slightly dressed up and made more elegant, or dressed down to stay casual? The two of you will be able to come to the right answer if you just take a minute to discuss what you're looking for!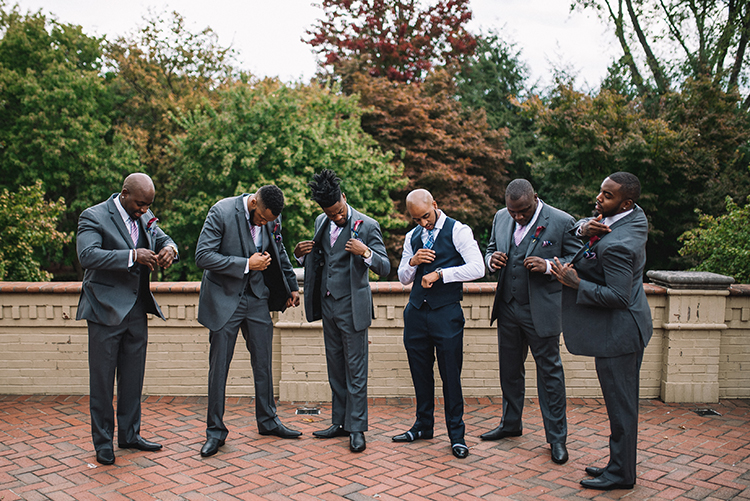 What is the price difference between a tuxedo and a suit?
Not surprisingly, this varies depending on whom you're asking and what exactly you're looking for, although you're very likely to find competitive rates between local providers. At retail, of course, a tuxedo is more expensive than a suit. When considering rental costs, however, which is definitely a more popular option at this time, you'll likely find that tuxedo rentals start at a lower price point than suits. As with wedding dresses (and really anything in the wedding industry!), there is a huge range of prices for suits and tuxedos, so the best option is to take some time to check out a few stores and discuss it with the experts. They can lead you in the right direction and find something within any price range!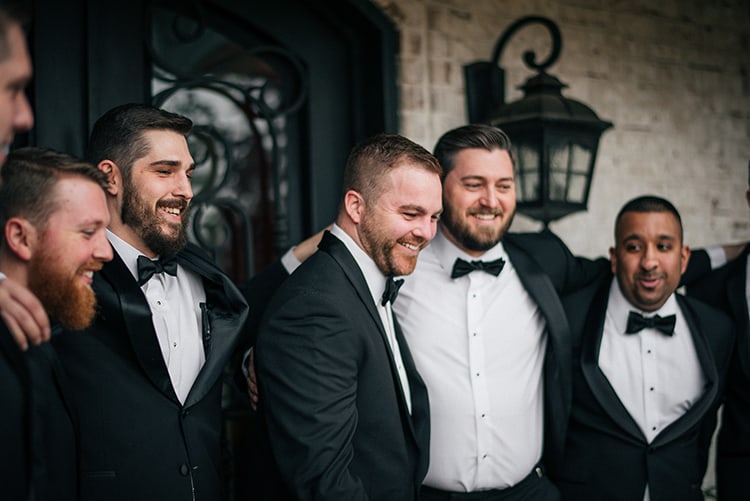 In the end, the most important thing is that you and your partner are happy and that you are comfortable with your choice. Because let's be real, the only thing that matters at your wedding is that you get married and get to start your happily ever after!
Photo credit: Details Nashville