When it comes to using social media around your wedding day, so many options exist that it's worth noting when and how you should limit or target what you're sharing! From Facebook to Instagram and everything in between, each social media site has its own set of communities, expectations, and privacy controls to document your wedding in a classy, safe way. Read on for my top tips when celebrating the biggest event of your life socially!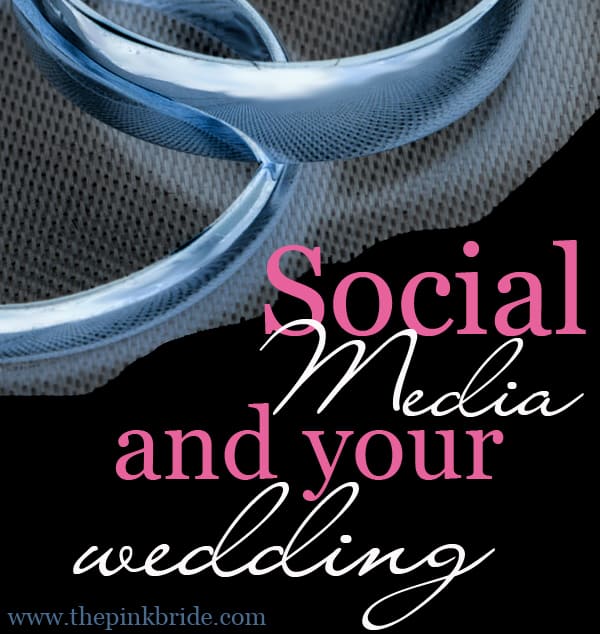 1. Create lists on Facebook to share only certain info with certain people surrounding your wedding season.
I know, I know. Unless you use Facebook for business purposes, or you're an avid Facebook user, you don't pay attention to things like groups and lists on Facebook. Hey, you might be like I used to be and only ever use Events as your something other than the general Facebook timeline. However, if you set up lists for your bridesmaids, bridal party, family, and non-invitees, you'll be able to customize who will see what. This means you will lose no sleep worrying that the wrong person will see the wrong tidbit of info about your wedding when you share it. Just set each status update to a custom filter, and voila!
By the way, I've found that it's easiest to exclude certain groups of people from updates, rather than picking and choosing which groups you want to see the update. This is similar to how Circles work with Google+.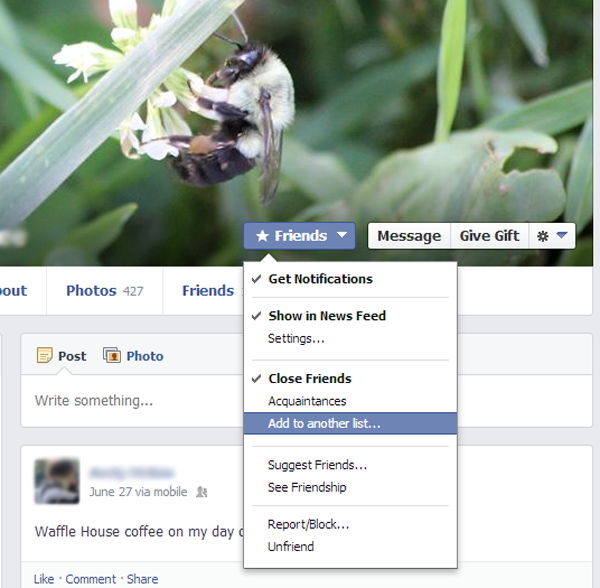 2. Post responsibly. Don't post info to Public unless you want everyone to know.
Your personal social media profiles are yours, and anyone can uncheck the "Show in Newsfeed" option on Facebook or unfollow you on Twitter or Instagram to stop being bombarded by your wedding bliss. However, do keep in mind that social media is not necessarily a good place to rant about So-and-so making you mad, your mom being too pushy, or your fave honeymoon lingerie options. That is, unless you're totally okay with your friends, friends-of-friends, and possibly current or future boss coming across the post. In other words, think before you post, tweet, or share – and always consider tailoring such posts to certain lists when you just can't bear to not share. Just like you shouldn't drive drunk, you also shouldn't post emotional. Both can have pretty dire consequences you'll regret later.
On the other hand, if you've found a fabulous item or idea for your big day, share it on Pinterest with a great picture! Other brides will definitely thank you for it later, and your wedding might just end up as the standard for awesomeness that season.
Long story short? Post responsibly.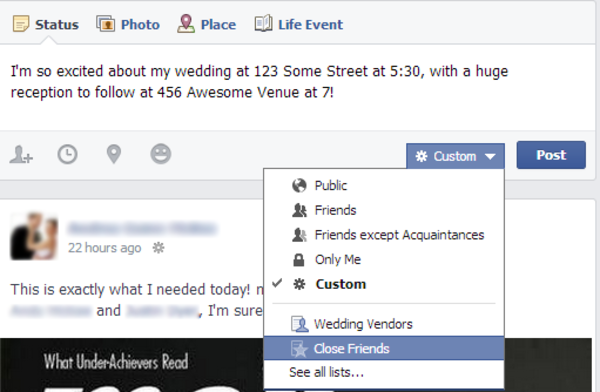 3. Set all images you're tagged in to need your approval before they show up on your Facebook profile.
Seriously. I learned the ultimate value of this a long time ago because I have an older sister with an avid imagination and wicked streak. I sometimes think she has a goal in life to find or snap the most unflattering pictures of me in the world and then immortalize those images across as many social media channels as humanely possible, tagging me in each one along the way. (My sis is also a fabulous photographer who takes amazing pics of me from time to time, so it's a bit of an oxymoron in my life.)
Anywho, how do you suppose this advice relates to your wedding? Simple. Think lingerie shower, bachelorette party, or any other place where you might not want images of you from a certain event plastered across your social media for the whole world to see. In other words, if you plan to be doing something you'd rather all 600+ friends do NOT see from the event (plus your boss, your boss's spouse, your future boss, and crazy Eddie who sits in the cubicle next to you at the office), lock down images you're tagged in to need your approval before they're posted on your profile. (Tell whomever is with you to post images carefully too, as you can't control what they share on their personal profiles.) And if you really want to take control, make your profile private and set all your privacy settings to where only you (or a select group of people) can see what goes on on your page, whether posted by you or someone else.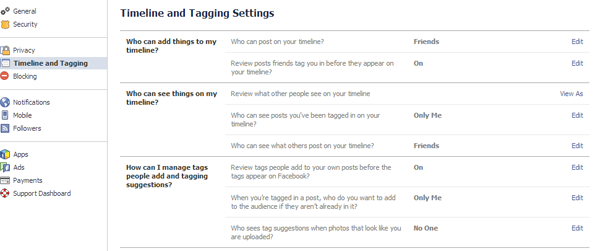 4. Use #hashtags to document and round up pics, videos and statuses from each event – including your wedding day!
Hashtags were made popular on Twitter and have expanded to most popular social media sites now – most recently, Facebook! Set a custom hashtag for your wedding for all guests and friends to use both before, during, and after the big day to document everything for you. Make sure it's unique, though – you won't want to choose a general hashtag like #wedding to document your day. You'll wind up with a lot more than just pics from your event if you do! Instead, consider something personal and memorable, like #YourLastNamesWedding (i.e. #smithwilliamswedding). Just search your hashtag first to see if it's already been used so you can have a fresh photo, video, and text lineup.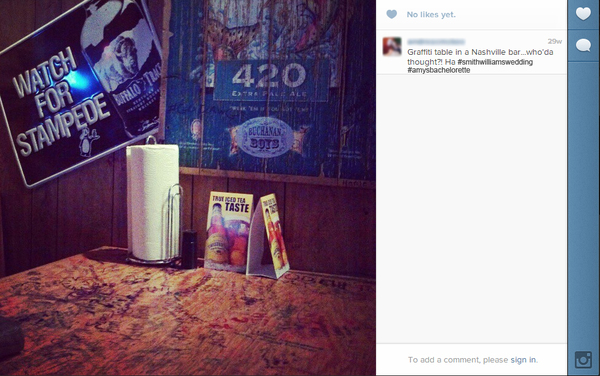 5. Remember that you set the tone for your wedding across all social media outlets.
If you're constantly posting unhappy remarks about this or that, or you're not striking that healthy balance between keeping guests in-the-loop and total lockdown, your guests will reflect that on social media. Let this aspect of your wedding reflect your personality! If you're bubbly and outgoing, get your guests hyped up with fun posts and countdowns all geared towards including them in the mix, rather than just relying on them to enjoy your exuberance privately. Social media is all about being social – so invite your guests to step into the happiness with you by including them in exciting details like the awesome band you've booked, super fab meal your caterer is providing, and after party to keep the night going!

What other tips do you have for social media and your wedding day? Share them in the comments below!
 Images created by Andrea McKee.