If you have a crazy situation come up surrounding your Tennessee wedding that has you rushing to the Internet for advice (or backup for your feelings) in hopes that another bride has experienced your same predicament, let me assure you: you're not alone!
I'm not quite sure what it is about weddings that brings out the crazy in people. Blame it on the heat (or lack thereof) of the month, the high emotions, the competition for attention, or something else entirely – one way or the other, weddings are an emotional business.
Brides are often left to wonder whether or not they're letting the stress surrounding the big day alter their perception of events, or if the offending party truly is acting rashly and insensitively. Situations like this often leave us all pondering whether someone genuinely doesn't understand wedding etiquette, or if he or she boldly just doesn't care to follow it.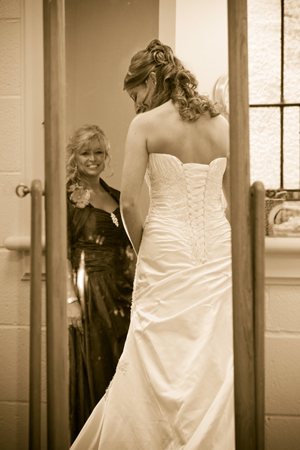 With this in mind, I decided to start a mini-series about how to address these potentially touchy issues before they become a problem, starting with one I've seen surprisingly often over the past few years: the mother of the groom wanting to wear white to the wedding.
This happens more often than you would think, and it's always a touchy subject.
Whether the MOG feels that she looks best in white, truly doesn't know she shouldn't wear white to your wedding, or wants to draw a parallel between your importance in her son's life and her own, this situation has the power to cause major hurt feelings both ways.
If you're wondering, "Am I crazy for letting this bother me?" the answer is, Not at all. If you've dreamed of a traditional wedding all your life where you star in a big, white dress, of course it will bother you a little. This is especially true since most people are quite familiar with etiquette regarding this matter, so your already-frazzled bridal brain is left pondering on whether your future in-law is doing this to hurt your feelings, when she may genuinely just not know what she should wear.
My advice? Always approach this kind of situation with the assumption that the person is not aware of proper etiquette in the matter. Remember, ladies: innocent until proven guilty! Understanding this will also help you keep calm and evaluate the situation rationally, rather than automatically assuming that your future MIL has hopes to sabotage your wedding dreams. Keep in mind that she likely has strong feelings about the wedding, too – after all, you are marrying her son! Ask yourself questions before jumping the gun, including, "Is it really white, or is it more of a dark champagne or nude? If it only has white accents, will it really be an issue?"
In the end, address the matter if you'll lose sleep over it. Otherwise, save yourself the hassle and potential hurt feelings by letting the situation go.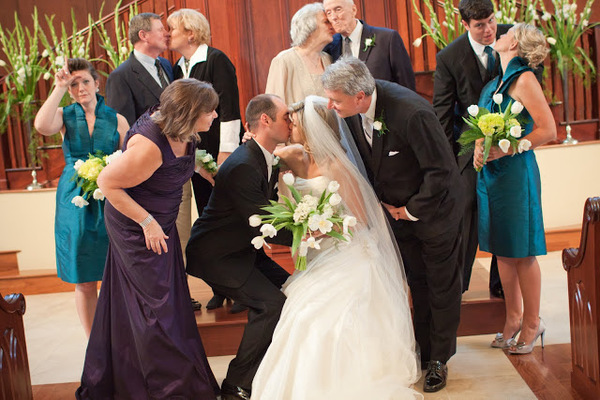 How to handle the mother of the groom wanting to wear white to your wedding:
If this comes up and will obviously be an issue for you, it's best to address immediately and privately. Most people suggest having your future groom address the issue to avoid any hurt feelings by misworded statements or explanations on your (or her) part. If you feel comfortable with her yourself, address the situation gently (yet bluntly) and privately to her face, reassuring her that you love her enthusiasm for the day, but that you have dreamed of being the only one in white at your wedding since you were a little girl, and you hope she can understand this and respect your wishes. Most mothers of the groom will totally understand and have no problem choosing another color for the big day.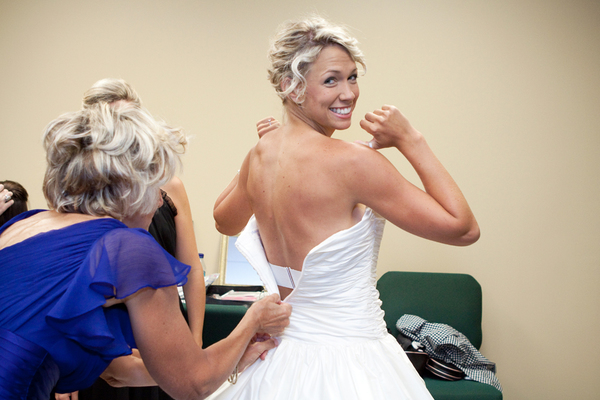 What does custom dictate about attire for mothers of the bride and groom?
Traditionally speaking: Custom dictates that the mother of the groom should wait to purchase her dress until after the mother of the bride chooses hers. Since the mother of the bride is generally closest to her daughter, and therefore will likely have had her choice approved directly by the bride, it is a good indicator to the mother of the groom as to what she should pick regarding length, style, and color choice. Knowing what the mother of the bride will wear beforehand also prevents the two mothers from having the exact same dress! The mother of the bride generally calls the mother of the groom after she's chosen her dress to clue her in on the specifics.
When it comes to color choices, navy blue is the most popular choice for mothers of the bride and groom, followed closely by blush or nude tones.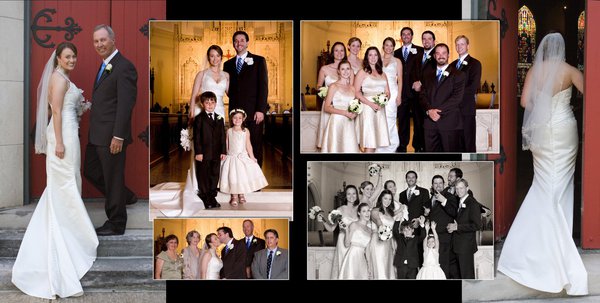 What does etiquette say about any guest wearing white to a wedding?
For the record: Proper etiquette dictates that only the bride wears white at the wedding unless she herself chooses to break with tradition and actually states that guests are welcome to wear white. Otherwise, it is assumed that all other ladies other than the bride in attendance at the wedding should refrain from wearing white (or even shades of it) to avoid seeming to rival the bride for focus. Naturally, this restriction doesn't apply to men, who will likely wear white collared shirts with a colored jacket and tie to your wedding.
Extreme interpretations of this guideline say that female guests shouldn't wear a white dress with a print on it, or even a printed dress that's predominantly white. Other colors to avoid at a wedding are red (Hello, attention-getter!) and black (Funeral dress, anyone?), all pending the bride's requests, of course.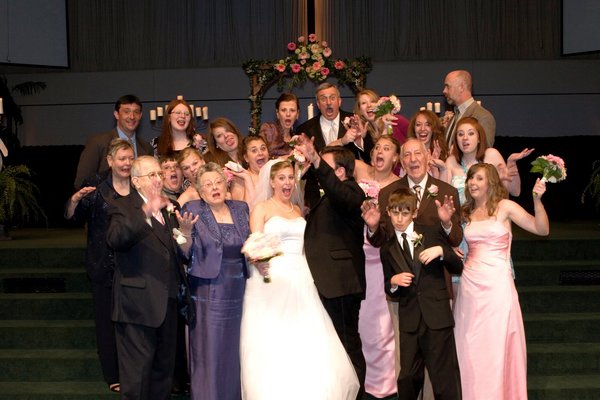 What do I do if I hear many guests are planning to wear white?
If it's a widespread predicament: I suggest doing a Q&A section on your wedding website, where you address the issue as if you're receiving the question lots from guests (whether you are or not).
"What should I wear to your wedding?"
We're so excited to have you join in on the celebration! [Consider listing the dress code here if it's a formal event, i.e. Black Tie, etc.] We do ask that you refrain from wearing whites, red, or black, but otherwise, we want you to be comfortable throughout the evening. Be sure to have your dancing shoes ready for the reception!
In the end, if you've addressed any color issues you have, don't worry about it anymore. After your wishes are known, your future MIL should be more than happy to accommodate them – and to get off on the right foot with you as part of the family! If not, other guests will recognize the faux pas as being a blunder on her part, not on yours, so try to rise above the issue and focus on making the day the happiest of your life.
Get more tips and planning ideas for your wedding via a Pink Bride Magazine and by attending a Pink Bridal Show this season!
Images courtesy of Tennessee wedding photography company serving Memphis, Photiq Photography.
For the record, all mothers depicted in these photos followed perfect etiquette!