Some women and men dread the moment when the emcee announces for all single ladies or all single men to gather on the dance floor for the bouquet or garter toss.
They either are terrified of the way cousin Sue drops into a football stance while sizing up her competition with a ruthless look in her eye, or they simply just don't like the idea of announcing their single status to the party. Of course, many don't really know the origin of these staple activities at weddings today, or they might have yet another reason why participating makes them uncomfortable!

Where did the tradition / superstition of the garter and bouquet toss get its origins, you may ask?
Well, like many other superstitions, the Medieval times gave us this origin – and it's just plain unromantic! Back in those days, it was considered great luck to get a piece of the bride's gown after the ceremony. Guests would even stand around the bridal bed, trying to rip the gown off of the bride! So, in an effort to deter guests from absolutely destroying the wedding dress (and likely embarrassing the blushing bride), brides began tossing their bouquets into the crowds to deter the eager guests while she and her new husband made a quick escape to the bridal chamber. Once inside, the groom would open the door slightly and toss out the garter quickly to the waiting guests, which meant he was about to complete the deal. Hubba, hubba!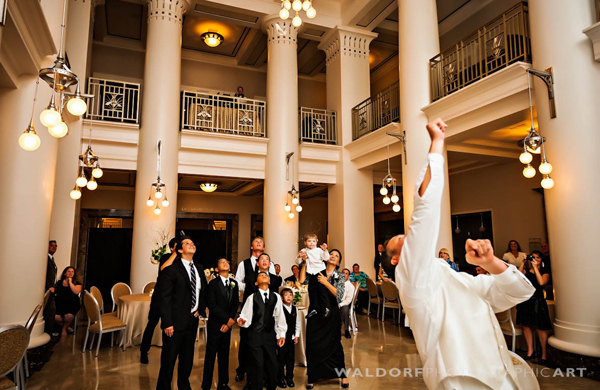 As superstition has it today, the lady who catches the bouquet and the man who catches the garter will be the next two to get married.
This doesn't necessarily mean to each other, but it is a fun idea. To seal the superstition, the lady who catches the bouquet sits in a chair while the man who catches the garter places it on her leg.

Now, I don't know about you, but I caught a few bouquets back in the day (the first of which when I was 10 years old), and I was never the very next to marry.
So as for the superstition, I have to say it's just for fun…or at least it is as far as it pertained to me!
Do you have a fun bouquet or garter toss story? Tell us in the comments below!
Be sure to learn all about other wedding superstitions by clicking here. Thanks for reading!
All photos courtesy of Waldorf Photographic Art.