Wedding dress shopping. For some brides it's one of the best parts of the wedding-planning process, and for others it's an experience they're completely dreading. With all of the dozens of styles and trends out there, how do you know which dress is right for you? Is there anything you can do to keep your stress level at a minimum while browsing for a gown for your Tennessee wedding? I talked with Rita, the assistant store manager at Tri-Cities bridal salon Princess Diaries, to get five helpful tips for choosing the perfect bridal gown.
1. Keep your options open when looking at wedding dresses.
It's a woman's prerogative to change her mind, right? Rita says that you may change your mind many times when shopping for your wedding dress. She explains that so many brides visit the salon with a certain style or look in mind. Some even bring in photos of the exact dress they're looking for. However, she tells us that more often than not, the brides will leave with a dress that's competely different from what they initially wanted. When trying on gowns, a style that may have looked gorgeous on your favorite celeb in the magazine, may not work quite as well with your body type. Or, certain styles or accessories that you'd never really considered before may surprise and delight you once you're looking at them on yourself in the mirror. Rita does encourage brides to trust their instincts when trying on dresses, and if the first one you try on is the one, get it!
2. Don't try on every bridal gown at the store you're visiting.
Wedding dress shopping can be a fun, magical experience, but it can also be exhausting and stressful. In order to keep your stress level down, Rita urges brides to only try on 3-5 dresses at a store per visit. Any more than that, and you'll run the risk of confusing yourself, forgetting which styles looked good on you, and becoming a worn out, frustrated bridezilla. Just tell yourself you can always go back to the store to try on other gowns at a later time. Easy does it, girlfriend!
3. Expect to possibly wear a larger size in your wedding dress than you would for other clothes.
It can be a bit unsettling when you're used to wearing a certain size in regular clothes to suddenly have to go up a size or two (or three or four) when looking for the perfect bridal gown. Rita explains that many wedding dresses are cut smaller than other dresses, and some brides get frustrated when the size they're used to doesn't work. Don't fret! As long as you're comfortable and feel like an absolute queen in your gown, pick out some fabulous wedding shoes, and pay no mind to the number on the tag. If it still really bothers you, well, that's what scissors are for! No one will miss that tiny little tag on the inside of your dress.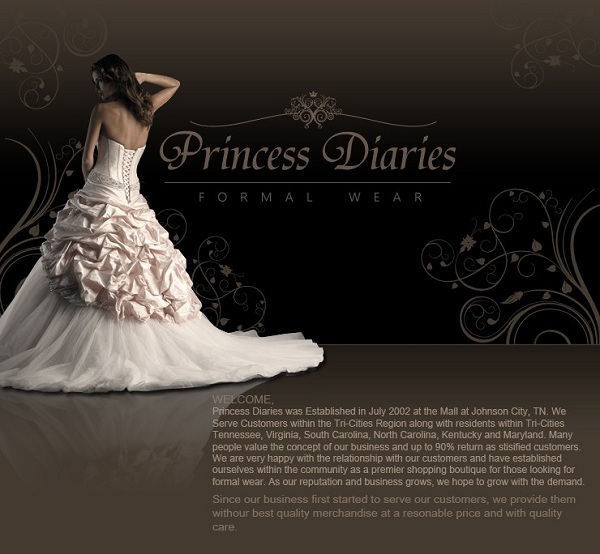 4. Avoid bringing children when going bridal gown shopping.
Bridal gown shopping can be a stressful experience. You want to find the perfect dress and don't want to go to fifty stores to have to find it. Rita encourages brides to alleviate some of the stress by bringing along only those that will be helpful in the shopping adventure. Avoid having children accompany you to the bridal salon. Even the most well-behaved kids can only sit still for so long in a dress shop. Also, even if you don't care if your fiancé sees your wedding dress before you walk down the aisle, Rita says you may not want to bring him along either if he's going to distract you from finding the gown that's right for you.
5. Don't order your wedding dress online.
Often, brides believe buying their wedding dresses online is the cheaper, faster route to take. However, as Rita tells us, you may end up spending more money this way than if you had purchased your gown in person at a bridal salon. Because your online dress will usually arrive wrapped up in plastic and put in a cardboard box, you'll have to have your dress steamed and/or possibly dry-cleaned before your wedding day to get all of the wrinkles out. Also, in-house alterations at a bridal salon often come with a discount or are sometimes even free when the bride purchases her dress from the store. If you buy your gown online you'll probably have to have some alterations made by an outside seamstress – which, due to the delicate material and intricate details of bridal gowns, can get pretty expensive. Finally, nothing beats checking out the latest wedding dress trends and trying on the gown in person before making the purchase!
Rita has been with Princess Diaries for about five years now and absolutely loves working with brides to find the perfect wedding dress. When brides come to the salon and are apologetic about being picky regarding their dress search, Rita assures them that she just wants them to be happy! She believes her job is helping to take as much stress off the bride as possible. To find out more about the fabulous dress selection at Princess Diaries, be sure to check out their website, and give the team a call at (423) 282-1245. Tell Rita The Pink Bride sent you!
All photos courtesy of the Princess Diaries website.