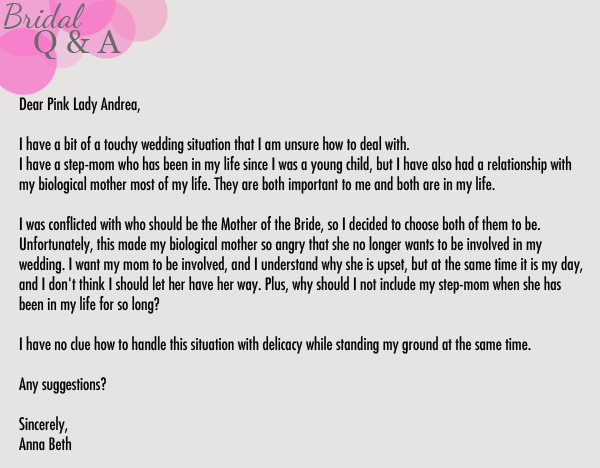 Hey Anna Beth,
Family issues at weddings get the better of all of us from time to time, so don't feel like you're alone in the drama.
For starters, deciding to include your stepmother in your wedding was entirely your decision to make. Etiquette exists for both including and excluding stepparents from the bridal lineup. The fact that your stepmother has been in your life since you were a young child further supports your decision to include her in such a big day.
Since the relationship is obviously strained between your biological mother and your stepmother, however, you might want to consider a few simple tweaks and adjustments to try and make the day easier for all involved. Hopefully, once your biological mother understands how important it is for your stepmother to be honored at your wedding as well, she will see the necessity of putting her own opinions aside long enough to celebrate with you during this once-in-a-lifetime event. Read on for my top suggestions when dealing with mom vs. stepmom situations around your wedding day.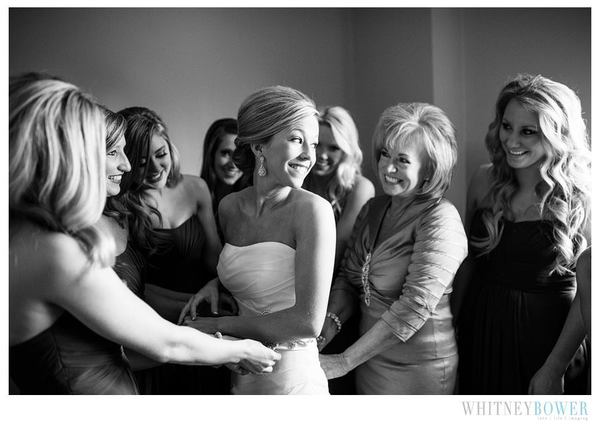 Be the buffer when it comes to what the mothers wear to your wedding.
Traditionally, your biological mother should choose her dress first and then alert the mother of the groom as to what she's wearing so they can complement each other while still being distinctive. Since you have another mother in the mix, I would suggest finding out what your biological mother is wearing, and then work with your stepmother to find a suitable dress that complements – but certainly does not match or in no way outshines – your biological mother's dress. You'll also want to check in with the mother of the groom to make sure the dresses chosen are not alike, but are complementary.
Stepmothers don't normally follow any certain dress code outside of simply not upstaging the biological mothers (or the bride). In fact, they should aim to dress a little more "subdued" if anything, as Colin Cowie Weddings details. Let your florist create corsages or tussie-mussies that match for both your biological and stepmom to draw a parallel to their importance in your life, rather than letting the attire become an issue.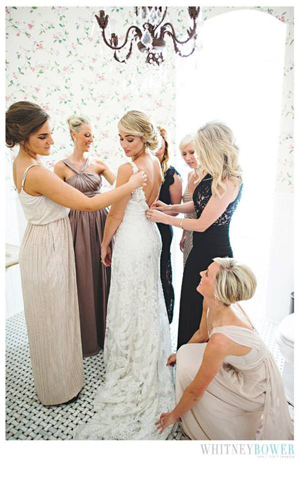 Plan any special ceremony details carefully, and focus on making tasks even.
For instance, if you're planning a unity ceremony, such as a unity candle, you might want your biological mother to light it. You could then also have your stepmother do something small, such as read a brief passage of Scripture or a poem you love. This way, you honor both without taking away from either.
Work out seating arrangements long before the rehearsal, and be sure to discuss them with your parents in advance so a scene isn't caused just before the big day.
In order and place, your biological mother should be seated after everyone else and on the first row. In this scenario, she would sit closest to the aisle, which gives her the best seat. Again, since emotions will likely be running high for both your biological and stepmother, you may want to consider spacing them apart rather than seating them side-by-side on the first row.
Traditionally speaking, your mother will be on the front as mentioned above (with her significant other if in attendance), and her immediate family will be directly behind her in the next row back. This generally would place your stepmother on the third row back in the second seat from the aisle. The empty seat to her right would be for your father to take after he escorts you to the altar.
Keep in mind that while these are guidelines, seating arrangements can absolutely be adjusted to fit your unique wishes. You may want your biological mother on the front with her immediate family to her left and your father and stepmother on the second row with his immediate family to the left so that everyone has a similarly good seat. Or, you may just tell them all to suck it up and seat them all on the front row, with your father as the buffer between the two ladies. It's your call! Check out what Emily Post says about the matter for more information.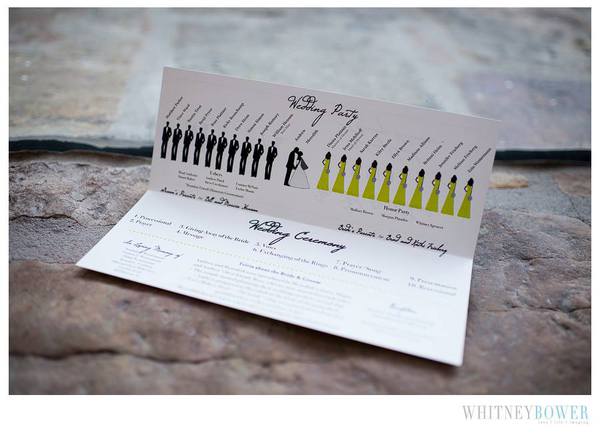 Be mindful of reception seating arrangements too.
It's probably not a good idea to seat your biological mother with your stepmother at the reception if feelings are especially raw, but you definitely will want to make sure they each have the best seats in the house. Just make sure you give them breathing room so heated discussions never get the chance to start at your wedding!
I normally suggest brides seat divorced parents (or stepparents) who do not get along at separate tables that simply are the same distance away from the bride and groom at the reception.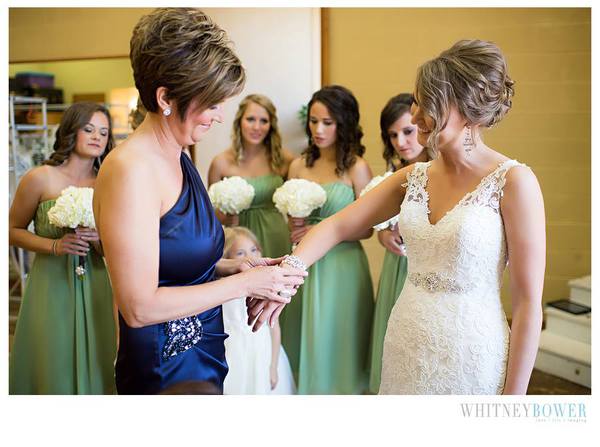 Adopt a code of transparency with your mothers throughout the wedding planning process.
With any situation that could cause drama around a wedding, I always say to go through three steps well in advance:
1. Think your decision through. Understand what drives your choice – be that emotion or genuine desire.
2. Be mindful of others' feelings. Attempt to understand their expectations before confronting them.
3. Address the situation head-on before it becomes a complication.
As a bride, it will be so easy to get caught up in your emotions that you could be blind to what others see as the obvious solution. So be transparent, rather than aggressive. Don't sit on hurt feelings, and encourage your biological mother and your stepmother to be totally open with you as well…but only with you, and only to a certain point. There is no real reason why they should have to interact more than absolutely necessary at common events, and there's no reason for one of them to constantly try to be the only one invited or honored at all the events around your day…and in the future.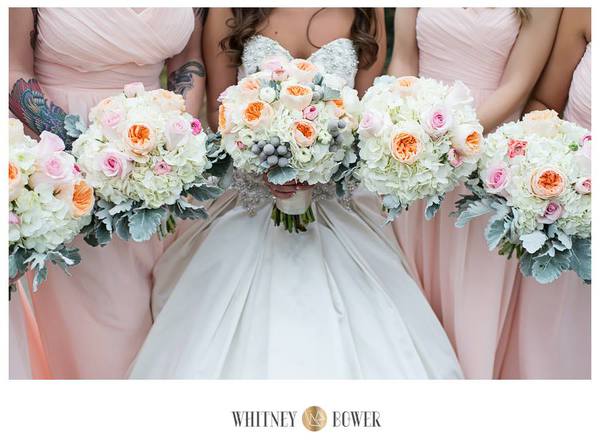 Play the devil's advocate every now and then.
While I'm the worst at drawing parallels between a parent's dramatic refusal to attend his or her child's wedding and a toddler's sudden and disruptive tantrum in a store, it's important to always see situations around your wedding from multiple perspectives. Put yourself in their shoes.
For instance, I could imagine myself feeling threatened and undervalued at not being the only woman honored as the mother at my daughter's wedding. I might be worried that she prefers her stepmother over me, and that she, her dad, and her stepmom are a solid unit that leaves no room for me in my daughter's life or future.
I don't know that this is what your mom is feeling. But what your mother may need right now more than anything is for you to reassure her of your love for her and your desire to have her share in such a special day with you. Her decision to attend or not is hers alone to make, though. Don't let yourself be bullied into a different decision, and don't try to bully her into attending. It'll only make matters worse in the future.
Good luck!
Do you have other questions regarding a touchy wedding situation?
Email me today at andrea@thepinkbride.com.
Images courtesy of Memphis wedding photographer, Whitney Bower Imaging.